[Image courtesy of I Googled Israel.]
Solving an escape room is a unique experience, one that immerses you in a story and surrounds you with tasks to complete and puzzles to unravel. Although there are some similarities between rooms (as well as solving techniques you can learn to be better at solving all sorts of escape rooms), each one has its own flavor, its own challenges, and its own quirks.
The same can be said for those groups who tackle the escape room experience. They all have different skill levels, different styles, and different approaches. Some players are terrific at the hide-and-seek portion of a room — discovering hidden compartments, secret caches, and so on. Others are better at identifying and solving puzzles. Still others can be strong abstract thinkers who look outside the box and recognize where patterns are formed and where they are absent.
But sometimes, players think too far outside the box, surprising escape room managers and designers with their curious efforts to complete the game.
[Image courtesy of Snorg Tees.]
In a post on Quora Digest, someone asked what was the weirdest or most unexpected thing that has happened during an escape room event?
One commenter, the owner/operator of an escape room, said that a player once snuck a Swiss army knife into the room, used it to unscrew the boxes containing keys to some of the major lockboxes, and escaped the room in five minutes. Naturally, to the disappointment and chagrin of his friends, he skipped the vast majority of the game itself, missing the point entirely by doing so.
Figuring that there had to be more stories like this out there in the world of escape rooms, I reached out to some of the escape room companies we've connected with on Twitter, and wouldn't you know it, there's plenty of escape room weirdness to go around!
For instance, the crew at Boxaroo, based in Boston, Massachusetts, have had to deal with the opposite problem: people sneaking things OUT of an escape room:
We've had interesting things stolen from our rooms. The usual locks, keys, and even a light bulb once. But the most bizarre was an entire lockbox that went missing. About 4″ by 5″ by 11″.
We had no idea how the person snuck it out until we checked our security tape footage. It was someone sticking it in their trenchcoat, old-school style.
When asked about their most peculiar moment with players, the team at ESC Escape Rooms, based in North Hollywood, Los Angeles, shared a story that explores the dangers of getting into character and immersing yourself too deeply into the setting of a game.
One of the employees was overseeing a game from outside, and instructed the player to go through a door. That's all, just use the door as you would any other.
The player responded by creating a fake door — like a mime or an actor in an improv show — and pretending to step through it, as if acting out the instruction was somehow part of the solve.
Much like the escape room supervisor who witnessed this, I'm totally baffled.
Sometimes players take instruction in a manner you wouldn't expect. Other times, they take those instructions all too literally.
Just ask the folks at Red House Mysteries in Exeter, England, who lost visual contact with the solvers in one escape room scenario.
The room had a suspended ceiling, and apparently, this created a blind spot for one of the cameras used to monitor the room.
After not being able to see the players on the CCTV for a good 5 minutes and getting no response on the radio, they went into the room to see if everything was ok.
They found the team of 3 people standing on each others shoulders, having removed the ceiling tiles, and currently climbing into the roof cavity above.
"Whilst technically this is escaping, it's not really the spirit of the game scenario. Nor do I have any idea where they were going to go from there. Needless to say, they didn't manage to escape…"
---
To close out this sojourn into the world of escape room shenanigans, I would be remiss if I didn't mention something that happened during my very first escape room.
We broke something. We broke one of the mechanisms that released a hidden key.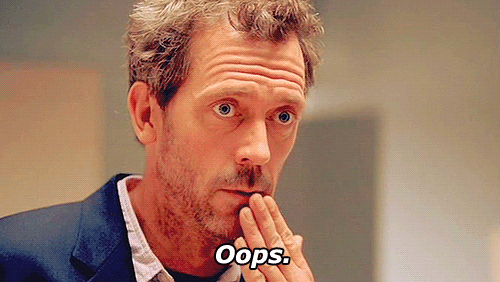 As a group of ten or so players, we quickly scattered around the room and began looking for clues, hidden compartments, hints on how to proceed, and so on. One team member, an acquaintance of my sister I didn't know, spotted a small statuette on the mantel.
It was meant to be turned 90 degrees, releasing a hidden key below. Not knowing this, she lifted it off of its small base instead, triggering the hidden key.
And since there was a matching statuette nearby, the group surmised that lifting it would release another key on the other side.
It didn't.
My best guess is that she managed to lift AND turn the first statuette when she picked it up, triggering the release. The second statuette was lifted straight up, leaving the hidden key still untriggered.
As it turns out, the statuettes weren't intended to be lifted off their bases, and we'd broken the second release trigger. One of us managed to trigger it with a quarter and free the key, but we didn't realize we'd actually damaged the game room until the session was over.
Here's hoping it was a quick and easy repair job. I still cringe when I think about it.
Needless to say, I've been far more cautious in all of my subsequent escape room attempts.
Have you ever had or seen any strange escape room moments, fellow puzzlers and PuzzleNationers? Let us know in the comments section below! We'd love to hear from you.
---
Thanks for visiting PuzzleNation Blog today! Be sure to sign up for our newsletter to stay up-to-date on everything PuzzleNation!
You can also share your pictures with us on Instagram, friend us on Facebook, check us out on Twitter, Pinterest, and Tumblr, and explore the always-expanding library of PuzzleNation apps and games on our website!